Selling a business can be a complex and emotional process, and it is crucial to have a plan in place to ensure that the transaction runs smoothly. Your approach may vary depending on your unique circumstances and objectives, but a professional advisor can help guide you through the process and ensure that you achieve your desired outcome.
According to the Exit Planning Institute (EPI), only about 20% of businesses that are put up for sale actually end up being sold. There can be many reasons for this, including poor preparation, unrealistic expectations, lack of interested buyers, or a variety of other factors.
While it is possible to sell a business on your own, using a professional such as a business broker or M&A advisor can increase the chances of a successful sale. We at Magnus Business Group offer our experience and expertise in valuing and marketing businesses, identifying potential buyers, negotiating deals, and navigating the complex legal and financial aspects of a business sale.
Ultimately, the decision to use a professional to sell your business will depend on your specific situation and goals. However, it is important to carefully consider all options and seek advice from trusted advisors before making a decision.
Our proven process consists of 7 main steps and suggest to start planning the exit strategy in as early as possible. This will give you enough time to prepare your business for sale and address any issues that may affect its value.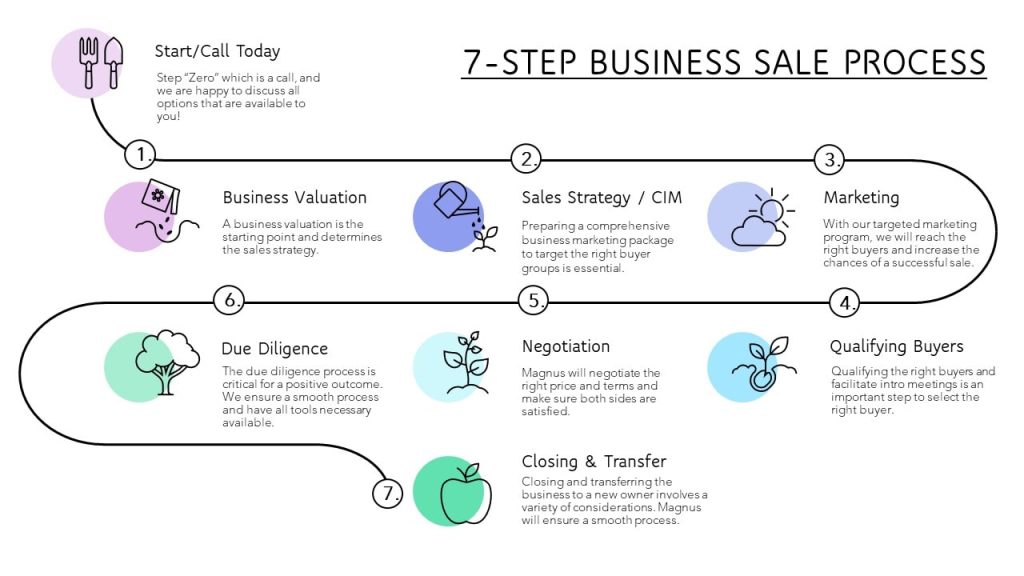 1. Business Valuation

A business valuation can give you an idea of how much your business is worth in the market. This can help you set a realistic asking price and negotiate with potential buyers. "Visit our Valuation page!"

2. Strategy and Marketing Package (CIM/CBR)

Preparing a comprehensive business package: A comprehensive business package, including a Confidential Business Review or Confidential Information Memorandum, will ensure to present your business in the best possible light to potential buyers. It also includes the right strategy to approach potential buyers.

3. Marketing

With our targeted marketing program we will reach the right buyers and increase the chances of a successful sale.

4. Genuine buyers and Introductory Meeting

Vetting buyers and Introductory meetings: We will pre-qualify buyers to ensure we work with serious buyers and organize introductory meetings where buyer and seller meet and evaluate if there is a fit.
5. Negotiating Process

Negotiating the Deal: Magnus Business Group will negotiate price, terms and conditions to meet your objectives while you continue operating the business.

6. Due Diligence

Be prepared for due diligence: Potential buyers will conduct due diligence to evaluate the business. We will assist to be prepared providing detailed information about operations, financials, and other aspects of the business.

7. Closing and Transfer

Closing and transferring a business involves a variety of legal, financial, and practical considerations. Magnus Business Group will assist with this important task to ensure a smooth transition.
Magnus Business Group will manage the entire process in a timely manner, get in touch with us today and explore all your options! Call 805-259-4795